The Monkey offers the best value for money on the 2WD market. It's actually hard to believe what you get. With a few choice upgrades this car will hang with literally anything produced by other manufacturers, with some of those cars costing 6+ times as much!
Please email me if you would like to purchase anything on this page.

I ship pretty much anywhere in the world for free.

Super Duty rear shock tower assembly - £27.50

The weakest part of the standard car is the rear shock tower. No other manufacturer yet offers an upgrade for this part, and the quality of the Full Option tower can't be surpassed by any other outfit in the world. These are a two-part construction. The tower mount bolts up to the gearbox, and is CNC machined from a solid billet of 6082-T6 aluminium alloy. Extensive machining leaves an exceptionally strong and light weight result. You also benefit from two extra camber link positions with this, giving more suspension tuning options at the rear end.
The main tower is cut from 3mm full-carbon sheet. It is the stiffest, strongest and lightest stuff around. Say goodbye to race-ending tower failures at last!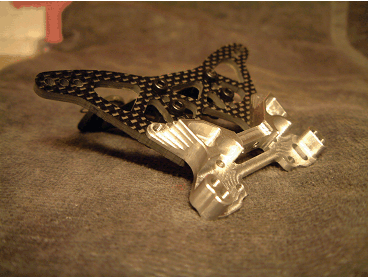 Prototype tower assembly. Production version shown below, has less material removed from the carbon section for even greater strength. Click to pop up a bigger image.
WHAT YOU GET:

3mm woven carbon fibre tower
Billet aluminium tower mount
All mounting hardware
Official Full Option clear-backed decals


The shock tower set. You can see the extra inboard camber link positions clearly.